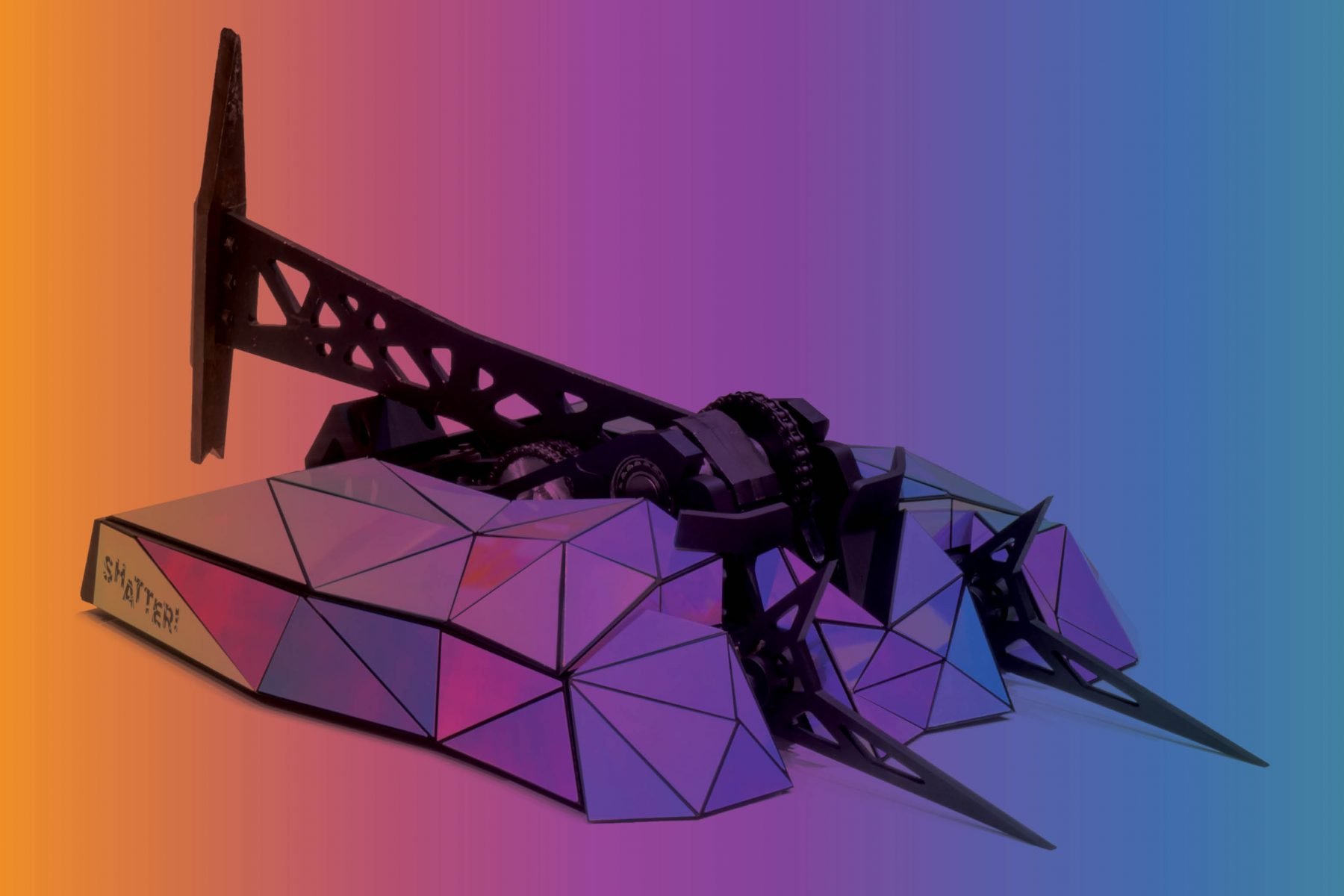 Q & A
Interview with BotsFC team member Paul Gancitano
Paul Gancitano is a mechanical engineer and member of BotsFC, makers of Emulsifier, Mega Melvin, Blue and the Battlebots competitor, Shatter! As part of our 2020 sponsorship with BotsFC and Shatter!, we asked Paul some questions about the robot fighting game, manufacturing and how he feels about his role in hastening the inevitable robot apocalypse.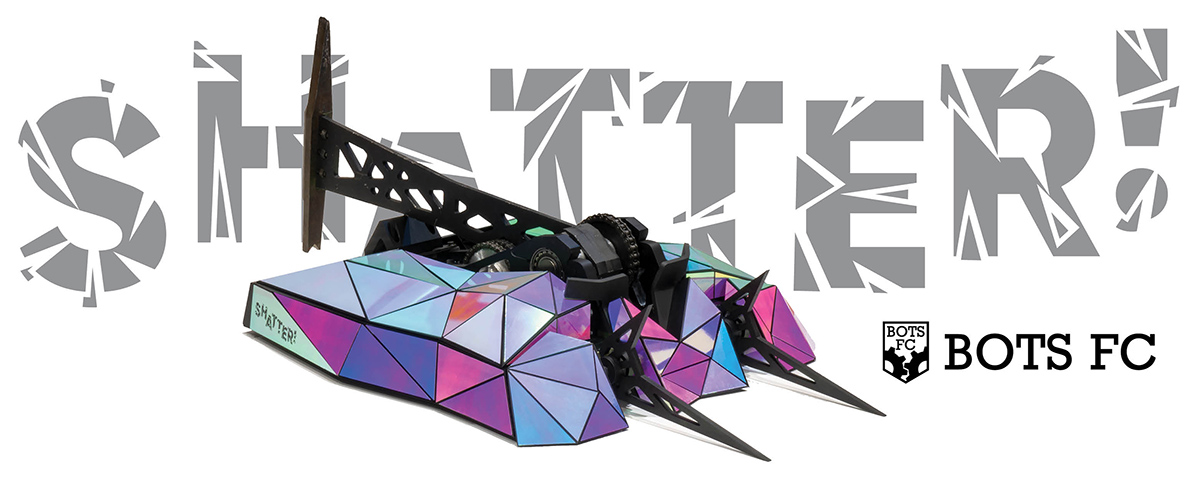 1. Thank you for taking the time to answer our questions, Paul. First off, what's the first RC toy you can remember playing with as a child and how long would it last in a match against Shatter!?
I think I had just about every Tyco car that was made — and a whole collection of Zip Zaps. The Zip Zaps might prove to be a pretty tough competitor for Shatter! because they're such a tiny target, but I'm sure Shatter! would win a unanimous JD.
2. When did you make the transition from harmless RC toys to literal killing machines, or in other words, how did you get your start in competitive robotics?
My first intro to the world of combat robotics was through Lego Mindstorms. I would build LEGO robots that had spinning discs or spring-loaded hammers and fight them in an "arena" my dad and I built out of wood. Over time, I experimented with more advanced kits and gained an understanding of how electro-mechanical systems work. After I had more exposure to machining and engineering design, the first large robot event I competed in was RoboGames 2012, with a 120-pound horizontal disc spinner. My very first fight was actually against the team that built "Witch Doctor," as seen on BattleBots!
3. There are a lot of people that see a show like Battlebots and think that it looks like a lot of fun, but it's not something that would ever be attainable for them. What advice would you give to someone who wanted to start getting involved with competitive robotics?
It's actually a lot easier to get into than you think! The best advice I have is to start small — don't jump right into building a 250-pound robot. There are a ton of small robot kits and local venues that sponsor "insect" weight competitions (robots less than 3 pounds). These are often affordable, simple, and are a great introduction to robot systems like motors, electronics, and R/C! Once you understand the basics you can experiment with more advanced features. There are also plenty of support groups on Facebook for those just starting out, where seasoned builders are happy to help out with questions. Before you know it, you could be on BattleBots too!
4. With so many schools adopting programs around robotics earlier and earlier in the curriculum do you think we'll see an influx of new competitors and designs onto the scene?
I sure hope so! I think BattleBots is the perfect avenue to get students thinking creatively and interested in STEM fields. There's no limit to what types of designs we can see on the show, as evidenced by the diverse field of competitors for the 2020 season.
5. Obviously Shatter! Is a different beast from the majority of fighting robots out there, it's hard to imagine the amount of planning, design iterations, prototyping, testing, etc. that goes into getting a bot battle-ready for the highest level of competition. Is there any other type of project that you've been involved in that's comparable to the process of building a competitive fighting robot?
Building a BattleBot is sort of like cooking. Every time you make a dish, you identify new ways the recipe can be improved, what ingredients may have not worked as well as you hoped, and better ways to manage your time while cooking. Don't expect a BattleBot or soufflé to be perfect the very first time… and don't be discouraged if either one completely collapses in on itself or lights on fire!
6. What are some of the challenges you face in the off-season to keep Shatter! evolving with the times?
We do an incredible amount of work behind-the scenes through the winter so that the design comes together as seamlessly as possible during build season. One of the biggest challenges can be finding manufacturing partners that are cost-effective and can turn parts around quickly. The money spent on building Shatter! comes out of our own pockets, so any support we can get through our manufacturers is extremely helpful. We try to take both the successes and lessons learned from the previous season into consideration during our re-design. The videos on our Youtube channel go into more depth on our design changes and why they were necessary.

7. How many different materials and processes are used for Shatter!?
Shatter! uses a variety of different materials and processes. The frame is made of aluminum because it is lightweight and provides good structural support. The hammer arm and front wedges are made of super-strong titanium, to bear the brunt of direct hits from our opponents. The hammer head is made of hardened steel, for maximum penetration into our opponents' armor. And of course, the UHMW plastic that we use for armor is great at absorbing the energy from spinning weapons and tearing away to keep the important parts intact!

As for manufacturing methods, most components are CNC machined or waterjet cut. Internal to the robot, we have 3D printed plastic to keep all of the electronics organized.
8. How many different partners do you use for all the necessary parts?
This year, all of the CNC machining for the robot frame was done by our primary sponsor, Prismier. We also work with local waterjet shops to get some pieces cut, and source parts from various vendors both domestic and overseas. Our other sponsors for the 2020 season are TMS Titanium (supplier of our titanium stock), and MaxAmps (for our LiPo batteries).
9. What qualities are important to look for in a manufacturing partner when working on something as complex and time sensitive as Shatter!?
We needed a partner that was eager to communicate with us through the entire process of concept to production. Some aspects of our design were quickly changing, so our manufacturing partner being flexible and understanding definitely helped move the process along effectively. Prismier was willing to prioritize our job so that we could meet our tight timeline and ultimately provided high quality parts that came together beautifully.
10. How does a manufacturing partner help contribute to the success of your team?
If not for our manufacturing partners, there would be no Shatter! Having a partner accept the challenge of producing a single-piece frame was the key to the entire robot coming together as we imagined. We put a lot of time and effort into the design, and to have it come to life is incredible. It's also super motivating to have our partner so excited to be working with us.
11. If you could implement one new weapon into the highest level of bot competition, what would it be?
I'm always surprised to see what new weapons emerge with each new season. I'd never imagined a "punching" robot before Tantrum arrived! And Hydra's use of a hydraulic launching system is super cool. I'm actually more interested in seeing how mobility continues to develop in the coming years — Shatter!'s mecanum drive system is already very unique, but who knows what other types of movement might emerge in the next round of competitors.
12. Competitive robotics has advanced so much in the last 20 years, what have been some of the biggest advancements in the sport that you've seen?
A lot of the biggest changes happen under the hood. Electric motors are putting out more power in smaller packages, speed controllers are more sophisticated and can handle much larger bursts of electric current, and LiPo batteries have overtaken NiCAD/NIMH for their superior energy to weight ratio. Along with this, 3D modeling software is far more accessible and user-friendly, so designing your dream robot becomes significantly easier.
13. What do you think the future of the sport will look like 20 years from now?
Hard to say! When you think about the dramatic changes that have already happened in the past 20 years, I'm scared to think of just how powerful these machines can get in another 20. It would be amazing if BattleBots held competitions in various countries and there could be a global championship. That's something to strive towards!
14. Do you ever worry that at some point in the future the robots will organize human fights for their own entertainment?
Hmmm… that sounds like a question a robot would ask 😉
Thank you for taking the time to answer our questions, Paul! We can't wait to see Shatter! back in action for the 2020 season!